Free knitting pattern – Socks for Gnome
Version
Download

0

File Size

3.81 MB

File Count

1

Create Date

January 13, 2022

Last Updated

January 13, 2022
Free knitting pattern - Socks for Gnome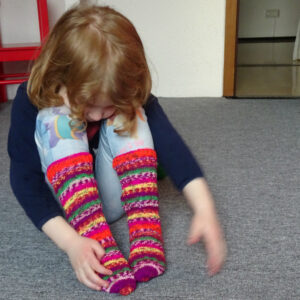 This is a free knitting pattern in PDF format.
I think we've all been there: We knit a pair of socks for the little ones. Then they have a growth spurt and the socks don't fit any more, after being worn just a few times.
Tube socks without a heel are the perfect solution, they kind of grow with your child, and when they really don't fit any more, you can make the next size up.
Of course, adults might want tube socks too, even though we won't outgrow them any more. They are just comfortable to wear, since they can't twist in a way that the heel ends up in the wrong place and bunches up in your shoes.
So, I created Socks for Gnomes and Giants, which come in most sizes from newborn to adult large. Perfect for Gnomes, Fairies, Giants and everything in between.
This free pattern only contains the instructions for the toddler size with one option for cuff and toes.
You will need about 170 m - 185 yds of fingering weight yarn and your preferred needles for knitting in the round. I used 2.5 mm needles to get gauge.
This is the FREE knitting pattern for toddler size. The full pattern comes with two options for the cuff and two for the toe. It has a total of 7 sizes. Full Pattern can be bought in my shop.