ATCs are my new addiction
Ever since I have been asked to be a part of the 100 artists event, I have been addicted to make one ATC after another… Wait, what am I talking about?
An ATC is an Artist Trading Card, with the set size of 2.5″x3.5″ and it can be made in any medium – painting, drawing, paper crafts, knitting, crochet, embroidery, leatherwork, whatever you can think of. Besides the size there are not really any rules – just you can NEVER sell them, they can only be traded. It's a great way to trade art with someone, even international shipping won't cost much.
So, now that you know what an ATC is, let's talk about what I like so much about them:
Well, I'm still pretty new to embroidery, but on the small scale of an ATC, I can experiment with techniques, styles and different stitches. Much less daunting than working on a large project and they are done fairly quickly.
So far I've made one including tiny buttons (featured image for this post), one on zebra printed fabric with rainbow hearts (above), one with soft, romantic colours and lace on coffee stained fabric (below) and one that's colourful, punk and a mix of fabrics (bottom of this post).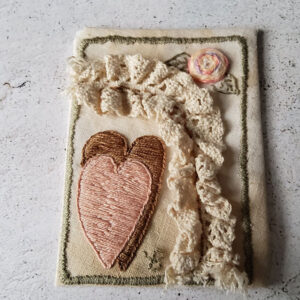 I have many more ideas I want to try, but I think that's more than enough loved themed ones for the moment. But there's so many other themes, I'm sure those won't be the last ones you'll see from me.
Well, I actually know I will make at last one more, in a co-stream next Friday, Feb 18 on Twitch. We haven't decided on a theme yet, but we'll each make an ATC and trade them once they are finished.
Have you ever made ATCs? Or thinking of starting with them? Let me know in the comments.